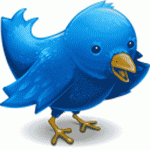 Many moons ago I posted a piece on here – 'Am I a twit not to twitter'.  Well, I'll admit it.  Yes, I was a twit not to Tweet, and I'm happy to say that.  I can't argue with objective facts, so here's my brief thoughts on what converted me.  Just in case anyone wishes to follow me, I'm on twitter, funnily enough, asJoePritchard.  Serious lack of imagination there but no excuse for missing me! 
So, here are my hints and observations from a beginning Twit!  There are plenty of articles around with more detailed hints and tips of how to use Twitter, and I'm not going to re-hash what's said elsewhere.  These observations are my personal thoughts and insights, for what they're worth, as to how I found that Twitter could be useful.
Two Way Street
I think the first thing that I learned about twitter (or rather had it pointed out to me) was that it's a two way street; if you want people to follow you you need to follow people, and that you need to have an idea of what you want to gain from Twitter.
Identify what you want
Apart from keeping up with your friends and colleagues, I've found Twitter invaluable for getting a good newsfeed from sites of interest.  In fact, I've found it a better proposition than RSS feeds.
Use a Twitter Client
When I first tried Twitter out, I used the Twitter web interface to use the Twitter service. It didn't work well for me – so this time I decided to try out a couple of dedicated Twitter applications.  I have Twhirl and Tweetdeck installed and they've both made using Twitter on a regular basic much easier – I just leave them running quietly in the background, they dynamically update, and they make it a pleasure to Tweet.
Think of it as less intrusive MSN
I've actually used Twitter as a form of MSN with some people – it's more spread out in time than a typical MSN conversation, more compact than Email and certainly doesn't clutter my inbox with lots of short mails.
Use it for promotion
I've recently re-activated this Blog and integrated it with both Twitter and Facebook, and have been studying the referral logs to see where blog referrals are coming from.  There does appear to be a fair amount of traffic from Twitter.  A recent event I participated in – ActionForInvolvement's Climatewalk – made significant use of Twitter in the run up to the event to promote it and encourage re-tweeting about the event.  Again, I gather that the results were well worthwhile!
If you need to, run multiple accounts
I was considering tweeting on behalf of my business from within my 'personal' Twitter account but I've decided to set up a separate account for the business.  The reason?  People following my business may not be very interested at all in everything else I do.  Let's call it 'brand protection' – I want my business brand and my 'JoePritchard' brand to be different entities online.  Whilst folks who know me will know that I run 'em both, the separation will be useful for business connections who I really don't want in my personal life – and vice versa!
Be picky in following and blocking
Spam has certainly increased on Twitter.  When someone follows me, I've got Twitter configured to mail me.  I always go and check out their profile, and then determine first of all whether to block or not.  Folks who look like spammers always get reported; if someone seems to be mainly pedalling MLM or just looks 'dodgy' in terms of their content or places linked to – again, block 'em.  I can't understand why American High School kids of either sex can think that I can be interested in reports of their weekends drinking or shopping and don't bother completing any parts of their profile  – sorry guys, you get blocked.  I know this sounds arrogant of me, but I want followers who know me or who are interested in what I say or consider that I somehow add value for them.  If you are a US High School kid who IS interested in what I say, then let me know – but have something of interest to me on your profile, somewhere!  In return, when I follow, I want to be following people that I know, am interested in or who add value to my online life by introducing me to new stuff or ideas.  Twitter does seem to encourage the 'numbers game' in people.  I prefer quality.
And that's that – I'm going to start using Twitter Lists shortly and will let you know how I get on.  And then there's the API stuff….watch this space.