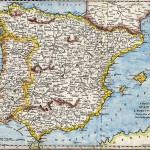 One of my interests is in GIS systems – Geographical Information Systems – and other aspects of computerised and online mapping.  Thanks to Googlemaps, it's been possible for developers to create map-driven applications for nothing – Google allows access to their mapping infrastructure free for many applications, and it's brilliant.  To anyone who hasn't taken a look or had a play, have a look at Google Maps and for you programming types out there, take a look at the Google Maps API.
Now, what really peeves me as a UK citizen is that our own Ordnance Survey – the folks who make maps – haven't got any facility for getting hold of mapping data free of charge.  I am aware of a rather scrappy 'trial set' of data that is available for use with GIS systems, but honestly – the OS was traditionally funded by the UK Government and it is only in recent years that it has been spun off.  It should not be beyond the capabilities of the current Government – who've always whined about innovation and creativity being a driving force of British business – and the OS to make available a system similar to the Google Maps one using UK Centric OS data, at negligible cost to software developers and end users, to actually make it easier for the development of geographically based applications on the Web, on the Mobile Internet and on our desktops.
But it hasn't happened yet.  And this morning I find out about the 'Geovation' project – a project to attempt to generate innovative ideas based on the use of geographical data and concepts.  Hey, it's supported by the OS!  I can see nothing on the site that suggests that there's any OS data available to play with – indeed I think the only data set mentioned is Google Maps!
To be honest, this is shaping up to be an astonishing lost opportunity for the Ordnance Survey – they could have leveraged this project by making data or even some sort of API available at a reasonable cost for small businesses  or zero cost for non-commercial development and research.  It doesn't look like it's going to happen – I get the impression they're going to lurk around picking up good ideas from people and then take them back and see what money they can make from them.
I may be wrong on all counts – I genuinely and sincerely hope I am, and that there is a nice, cheap, API and full UK dataset out there waiting to support companies and individuals looking at the Geovation Challenge.  Why do I think there isn't, though?