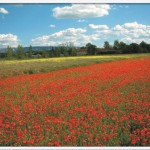 I was late in getting my Poppy this year – I didn't actually buy it until yesterday (Saturday) morning, when I purchased one from a gentleman in Hillsborough whilst on my Saturday morning Odyssey known as 'the weekly shop'.  I get a British Legion Poppy every year – I'm afraid I don't have much truck with the White Poppies that are available – and wear it proudly.
My grandfather fought in World War 1 – I barely remember him as he died when I was 5 years old, but I'm here because he was lucky enough to be captured rather than killed on the first day of the Battle of the Somme in 1916.  My mother wasn't conceived until after the First World War, so I regard myself as a lucky bod to just be here.
One observation I made to the gentleman from whom I bought my poppy was that I am of an age to be part of a 'blessed generation' of young men – for much of the last 2 decades the UK has had troops overseas in combat theatres – especially in recent years we've become used to seeing coffins coming home from the same places 'east of Suez' that the generation of young soldiers who fought in World War 1 would have been familliar with.  My generation avoided this; our only war was the Falklands War – perhaps the last of the old style national wars before we got drawn in to the sequence of international coalitions and wars against terror that have been a feature of the world since teh fall of teh Berlin Wall.
British troops in World War 1 noticed that the most prominent wild flowers to sprng up each year on the battlefields were Poppies.  The reason for this is simple enough; poppy seeds lay in the soil until the soil is broken up and disturbed; then they'll start growing.  Today we can occasionally get this effect when ground is broken up for building excavations.  Historically, the effect was noticed by many authors over the hundreds of years in which Flanders was a battlefield.   In Flanders the breaking up was done by digging trenches, shelling, the carving up of the ground by wagons and tanks and running feet.
And the excavation of earth for graves.
And the latter inspired Major John McCrae to write possibly the most famous (and my favourite) poem from World War 1 after being responsible for the burial of a fellow Canadian officer at the Second Battle of Ypres in 1915.  McCrae himself would not see peace; he died of pneumonia in 1918.  The poem is 'In Flanders Fields':
In Flanders fields the poppies blow
Between the crosses, row on row,
That mark our place; and in the sky
The larks, still bravely singing, fly
Scarce heard amid the guns below.
We are the Dead. Short days ago
We lived, felt dawn, saw sunset glow,
Loved and were loved, and now we lie
In Flanders fields.
Take up our quarrel with the foe:
To you from failing hands we throw
The torch; be yours to hold it high.
If ye break faith with us who die
We shall not sleep, though poppies grow
In Flanders fields.
Three verses; observation, remembrance and a call to duty.  Our attitudes towards concept such as duty and honour have become cynical over the years, and it's perhaps only around this time of year that we remember these men for whom it was important enough to lay down their lives.  Some suggest that we should stop remembering WW1 when the last combatant dies; I disagree.  We should step up and catch that thrown torch of honour, courage and duty and not break faith with those who fell in Flanders Fields.