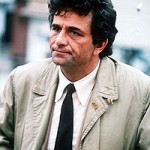 Yesterday, Peter Falk died.  The 83 year old veteran actor had had dementia for a few years – an ironic end for a man who will always be known as Columbo, the dishevelled homicide detective with the razor sharp mind. Enough will be (rightly) written about Mr Falk over the next few days, and I'm sure that the TV planners are already dusting off parts of their schedule for a few re-runs, but I just wanted to blog about what Peter Falk meant to me as an integral part of growing up.
I blogged about the show a year or so ago – here – and it's sad to come back to it in this way.
Columbo was part of the 'Mystery Movie'  TV series developed in the US in the late 1960s / early 1970s that featured feature-length stories from three or four detective, once a week. So you'd get a Columbo one week, McMillan and Wife, then a McCloud, etc. They were standard viewing in Pritchard Towers – although I was usually dodging in and out of the living room, doing homework and hobbies or just 'mucking about' in the evening.   Columbo is always associated with my early teens; whereas I was not always allowed to watch some TV police shows, Columbo was OK and passed parental screening.
It was like a jigsaw puzzle – you knew who did it, when, how and to whom.  the trick was working out how Columbo would piece the clues together to get to the murderer. If there was ever such a thing as a 'Police Opera', Columbo was it.  There's a saying 'The opera ain't over till the fat lady sings' – in Columbo, it wouldn't be over until the man in the mac turned to the suspect as he was leaving after an interview and said 'There's just one more thing…'.  That was the 'Black Spot' for the murderer – they were marked for nicking, and it was just a formality from there on in.  The bumbling detective who, in the words of one character, 'looked like an unmade bed' was in many cases almost apologetic when he slapped the cuffs on – indeed, there were a number of episodes where the murderer was much more sympathetic than the victim! Columbo was like a favourite uncle, complete with dreadful car and a dog as laid back as he was, called 'Dog'.
Like another of my favourite detectives, Morse, first name was never mentioned; I got the impression that his mysterious wife (like Arthur Dailey's 'er indoors', mentioned often, never seen) would call him to dinner with a quick 'Lieutenant, dinner's up'.  To me he had a number of character traits that were charming and unusual to see in a lead role in a TV detective show.  He was untidy, (apparently) easily distracted, showed humility and was pretty non-violent. He also had a sharp mind, dogged persistence and a sense of fair play and justice. In other words, he was a nice guy who just happened to be a homicide cop.  He didn't have 'issues' like modern cops, but you could actually believe in him – I think even now I want my police murder squad people to be either Columbo or Morse.
Falk was also brilliant in one of my favourite war films 'Anzio', in which he played a member of a squad of GIs stuck in a farmouse with German soldiers around them, but for me his greatest film role would be as, wait for it, unkempt, dishevelled, private detective 'Sam Diamond' in the brilliant comedy 'Murder by Death', which sends up every 'locked room' mystery you will ever have seen.  It was on TV a few days ago.  There is a description (and spoilers) here.  If you've not seen it, and don't mind fun being poked at Miss Marple, Hercule Poirot, Sam Spade et al. then do take a look!  Falk has some brilliant lines – I have to say that my favourite, after he finds out that he and his girlfriend are locked in a room with a bomb set to explode in 30 seconds, is :
[a bomb is about to explode]
Sam Diamond: I've got an idea! I don't know if it will work but I've got to try. Turn around!
Tess Skeffington: I've turned, Sam.
Sam Diamond: Whatever you do, don't turn around until I say so.
Tess Skeffington: [turns around] But Sam…
Sam Diamond: I SAID DON'T TURN AROUND!
Tess Skeffington: Yes, Sam.
Sam Diamond: Good! Cause… I think… I'm gonna cry.
When the news came through about Peter's death yesterday, I heard it first from Twitter, and then came the grubbing around for a few minutes on Google and such to get it confirmed.  I have to admit to being a little bit teary – but then I realised that I was sad and smiling – all those super memories I have put there by Peter Falk. 
Let me find my Columbo box set…