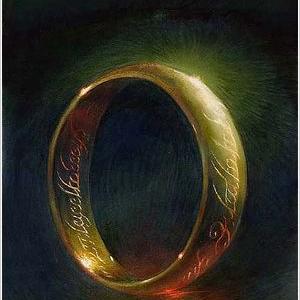 The Ring of Gyges is a magic ring discussed by the philosopher Plato in his Republic. It granted the wearer the gift of invisibility, and was used by plato to explore what would happen if an intelligent,  moral and upstanding man were to be given this gift.  After all, he'd be able to go anywhere, do anything, with the absolute minimum risk of being caught. Would such a man be able to stay morally and ethically upstanding, or would his morality stretch as far as "I can't get caught, therefore it's party time!"
In other words – would such a 'gift' corrupt even the most upright citizen.
Sounds familiar? Well, HG Wells' 'The Invisible Man' certainly features this idea, and it's been suggested that the 'One Ring' in The Lord of the Rings is a more forceful version of the Ring of Gyges – one that actually corrupts the wearer rather than allows the wearer to corrupt themselves.
I started writing this post – OK, I wrote the title – about 3 years ago, back in 2012, just before I fell away from blogging. Back then I was pondering whether the relative anonymity of the Internet was acting like a Ring of Gyges that was available to anyone online who chose to operate behind an anonymous account or an alias. At the time I was still recovering from spending a few years as Admin of an online forum with a few folks wearing such rings and acting like idiots.
What's surprised me in the meantime – and what triggered me to finally write this post – was that it's now possible to see people being total arses under their own names, often with a photo visible! Online anonymity in some places has fallen by the wayside, and I have to say that I expected people to behave more like they would in 'face to face' discussions.  It's a sobering experience to look through the posts in discussion threads on Facebook – where real names are at least in principle required – and see just how belligerent, aggressive, and abusive some people are, even under their own names.
I have to say that I've been surprised. I've always used my own name when publishing online; part of this is that 'once a writer, always a writer', and I just love seeing my name out there, but there's also an element of removing the temptation to behave badly!
So…is the Ring of Gyges an outmoded concept? Are people just more shameless? Do folks just not care when they're being badly behaved and everyone can 'name and shame' them for it?
Or, is it what might be called the 'cat's backside' syndrome? Just after we adopted our cat Jarvis he was quite nervous for a few days, and would try and hide in various places around the house.  Unfortunately, his approach to hiding was to hide his head so he couldn't see me, whilst leaving his backside out in the open.  Not a cunning plan….
Maybe all these folks just think that because they can't see us, we can't see them?  And if so, just how dumb are they?