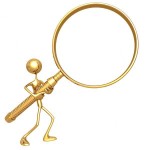 I'm a big user of search engines.  Despite my grumblings and pontifications on here about Google, I still use them the most because they're still the best out there.  I hope that Bing – despite the daft name – will one day come to challenge Google, but until then, I just Google.  It's been interesting recently to see Tweets start appearing in search results, and I've commented in this blog on the topic.  The most recent work being done by Google that they feel will improve the search experience for us all is explored in this piece from the BBC, and I'm particularly interested in the comments made about 'Social Search'.
First of all, what is Social Search? 
My definition of a true Social Search tool is one that would give weight to a number of different aspects when searching.  These would include:
The normal search criteria as entered in to any search engine that you care to use.
Your location, intelligently applied to any searches that might be expected to have a geographical aspect to them.
A weighting applied to favour the results based upon material that meets the criteria you're searching on that may have been placed on the Internet by people or organisations within your personal or professional network.
To give an example – you do a search for restaurants.  The search engine makes a guess about your location based on previous searches, geocoding based on your IP address or, coming real soon, tagging provided with the search request specifying your location based on a GPS in the device that you're using for the search.  The search engine then determines whether your 'friends' have done similar searches, whether they've done any reviews or blog posts about restaurants in the area, posted photos to Flickr, or are actually Tweeting FROM a restaurant as you search, whatever.  The results are then returned for you – and ideally would be tailored to your particular situation as understood by the search engine.
And this is roughly what the Google Social Search folks are looking at.
"….returns information posted by friends such as photos, blog posts and status updates on social networking sites.
It is currently only available in the US and will be coming to the rest of the world soon.
Maureen Heymans, technical lead at Google, said this kind of search means the information offered is personal to the user.
"When I'm looking for a restaurant, I'll probably find a bunch of reviews from experts and it's really useful information.
"But getting a review from a friend can be even better because I trust them and I know their tastes. Also I can contact them and ask for more information," she said.
In future users' social circles could provide them with the answers they seek, as long as individuals are prepared to make those connections public."
Of course, the million (or multi-billion) dollar question is how far are people to go in terms of making their networks available to search engine companies in such a way that results can be cross referenced in this way.  Once upon a time I'd have said that folks wouldn't, as they value their privacy, but today I'm not so sure.  Given that we have seen sites where people share details about credit card purchases, I'm not convinced that people value their privacy enough to not allow this sort of application to take off, at least amongst the 'digital elites'.
Of course, hopefully it will be up to us whether we participate in using Social Search – I guess all of us who blog or Tweet will find our musings being used as 'search fodder' unless we opt out of making our contributions searchable.  Will I use Social Search?  If it's at all possible to opt out, No.  And here's why.
Because I doubt the results will be as relevant to me as Google and all the other potential providers of SOcial Search think they will be.  Let's face it – these companies will not be doing it for nothing – some where along the way the 'database of intentions' will be being supplemented and modified based upon the searches carried out, and such information is a goldmine to marketers and advertisers.
But the relevance to me?  I'm yet to be convinced – and here's why.
If I really want the opinions of my friends, family and occasional business contacts on what I eat, wear, watch or listen to then I'll ask them directly.  Just because I know someone doesn't mean that I share any similarity in viewpoint or preferences at all.  I have friends with very different interests – Christians, Muslims, Jews, Buddhists, Agnostics  and Atheists, people from the political left and right, party animals and stay at homes…the differentiation goes on.  This is because I pick my friends based on what they're like as people – not necessarily because they share interests or beliefs.  As it happens, I'm occasionally quietly offended by what some of my online friends say – but that's life.  We don't always have to agree or share the same beliefs.  
Therefore, the idea of biasing my search results based on what people I know search for, prefer or comment on is potentially useless.  If I wish to know what my friends think or say – I'll talk to them, email them or read their tweets / blogs / whatever directly. 
I feel there's also a serious risk of 'crystalisation' of beliefs – a sort of friendship groupthink emerging.  Think of what it was like when you were 13 years old and spotty.  For many teenagers it matters to be 'in with the in-crowd'; Social Search could contribute to the return of that sort of belief structure amongst peer groups.  By it's nature, the people who will be 'opinion leaders' in your Social Search universe will be those friends who are most online and who share the most.  Their activities will hence bias the results returned in Social Search.  It might not be such a problem for them, though – people who have a high Social Search presence will undoubtedly come to the attention of advertisers and opinion formers who might wish to make use of that 'reputation'.
One of the great advantages of good, old-fashioned, non-social search is taht you will occasionally be bowled a googly (pitched a curve ball for my transatlantic friends!) that might lead you off in to whole new areas of knowledge.  You may be prompted to try something new that NONE of your friends or colleagues have heard of.  Whilst these results will still be in the results, if they're on the second page, how many of us will bother going there?  We'll become fat and lazy and contented searchers.
So….I think I want to stay as an individual.  For now, I'll happily turn my back on Social Search!