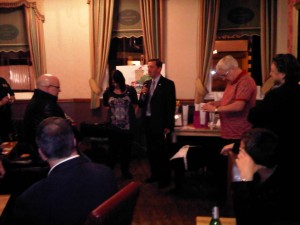 As some of you may know, I'm on the Board of the Hillsborough Forum, a group that works for the economic regeneration of the Hillsborough area of Sheffield, and also coordinates other activities in that area, such as 'Yorkshire in Bloom' and other community activities, such as Community Gardening.  I'm very proud of my involvement with HF – and certainly enjoy working with some wonderful people such as Wendy Wells.
Tonight we had an event to launch our 'Made in Hillsborough' brand – an attempt to provide a unique and easily identifiable brand for companies and businesses based in the area.  the brand was designed by local, highly skilled, Graphic Designer Emma Metcalfe and manages to encapsulate all the major aspects of Hillsborough – green spaces, soccer, the Barracks, the range of produce available in the area.  It's so 'hot off the press' that the first time I saw the 'full version' of the logo was at this presentation, and it's a smasher.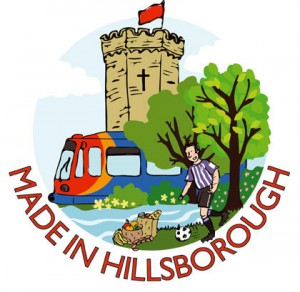 It's partially visible in the background of the above photograph and on the right you can see a larger version of the logo in all it's glory!  The launch took place in the Hillsborough Hotel, who provided us with excellent surroundings, a nice buffet and a very nice special brew for the occasion from their in-house Crown Brewery – Hillsborough Pale Ale.  Of which a fair amount was quaffed by all, including me.
There was an excellent set of introductory talks from the Rt. Hon. David Blunkett MP, local author and historian Ron Clayton (Ron – if you're reading this send me your web site address!!)  and Hillsborough Forum's very own 'member of the Queen's Gang', Wendy Wells MBE.  And then it was down to networking, brewery visiting, eating and drinking!  And a fine evening was had by all, with your correspondent finally strolling home through the drizzle at 11pm!
We had excellent support from many Hillsborough businesses for raffle prizes and give-aways on the night including Picky Miss Sock Monsters, Imogen's Imagintion (milinery / hats), Simpkin's Sweets, Teddy Bear Maker and Funks Butchers.  On a personal level it was great to see old friends again, and make contact with Russell Cavanagh who runs NW Sheffield News Online.  My major social gaffe of the evening was not immediately recognising the very friendly folks from the Java Lounge coffee shop in Hillsborough – given the amount of coffee and cheesey crumpets they've served me in recent months that was a wee bit embarrassing! 
But – thanks to all!!  Follow @Hills_Forum on Twitter, and if you want to help plug the brand, use the #MadeInHillsborough hashtag!