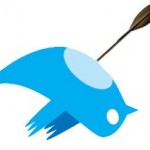 I'll admit it.  Deep within me is a snob.  As far as I'm concerned, the online world started heading down hill when you no longer had to know how to install a full TCP/IP stack to use the Internet.  Most online discussion forums should, in my opinion, have an intelligence test before you're allowed to post on them – basically the ability, for an English language website, to string together English sentences without text speech or foul language is a good starting point.  OK…where was I….oh yes. 
Seesmic, the company who produce  the popular Twhirl Twitter application, are producing an application that they basically believe will bring Twitter to the masses of online users who are yet to Tweet.  The software has been endorsed by Twitter and developed in collaboration with Microsoft, who may be planning on installing it as part of Windows.  The program, called 'Look', is designed to be used by people who're not currently tweeting and who may not feel that they have much to say – looking at it I'd say that it appears that twitter are starting to commoditise their platform – increase the numbers of users and volumes of traffic prior to some efforts towards monetisation of their network.  In yestreday's piece about BlippyI mentioned the 'database of intentions'; perhaps Twitter are looking towards a massive increase in numbers of users to swell the flow of data that can be used to generate another part of this database.   Twitter's traffic / user levels have also been flat for a while – perhaps twitter see this move as a means of breaking through the current plateau and getting things moving again before the next new thing comes along.
Now, as you can gather from the title I have a few issues with what's happening.  To some people, the idea of 'dumbing down' Twitter may sound daft – after all, many folks think it's pretty dumb already – so let me explain what I mean.  Twitter is a platform that carries messages which users can filter and hence determine what they see.  In principle, therefore, a large influx of new people shouldn't necessarily change the culture too much; after all, people filter which Tweets they see.  If Twitter does become a hotbed of text speech and obscenity (OK, even more than now! 🙂 ) then it shouldn't affect most of us because we can filter out the noise.  This is a different proposition to spam email or discussion Forums where the signal to noise ration – i.e. the amount of good stuff compared to the dross – does decline radically when larger numbers of users come on board.
However…all this new traffic will be using Twitter's infrastructure, and unless the twitter infrastructure is improved I can see many more occurrences of the 'Fail Whale' in the months after the introduction of this new package.
As for the dumbing down; I am concerned; if Twitter are going in this direction to play the 'numbers game' then I can see good content becoming harder and harder to find.  Twitter's search facilities are pretty poor; using them to search through large amounts of juvenilia for the valuable nuggets of content is not going to be easy.