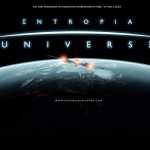 Every now and again I come across something online that leaves me staggered, infuriated and thoughtful in reasonably equal measures.  The other day I encountered this little gem – a chap has spent $330,000 on a 'virtual space station' in an online computer game.  Yep, that's right – a third of a million dollars on stuff in a video game.
I was actually quite surprised to read that back in January 2009 $600 million was invested in virtual worlds, and that in China 'virtual currency' is a $2 billion industry.  Scary.
OK…I'll walk you through my thought processes now.  My first impression was 'WTF? Is this man crazy?'  After all, I'm someone who thinks that spending thirty quid on a video game to be the height of extravagance.  I already started worrying about how his email inbox was going to cope with all the letters from long lost Nigerian relatives wanting to share money with him – after all, they probably reckon that anyone who spends money like this must be easy pickings for a 419 scam.  Next up came 'This is truly obscene.'  Now this is obviously a personal judgement of mine – I do think spending $330,000 on a piece of game terrain is pretty dire when the world's in the state it's in, but it's his money, he's earned it, so that's his judgement call.
Now, assuming he's not crazy – and anyone who's gathered together $330,000 in disposable income is unlikley to be totally barking, that leaves us with teh thought that at least he believed he's got a good investment opportunity.  And, putting my own moral and ethical scruples aside for this post, he may be on to something.  The figures quoted above are pretty big numbers.  The Swedish company who run teh Entropia game have obtained a 'real world' banking licence, allowing them to run a bank.   Given that the in-game currency has a fixed conversion rate to the US Dollar, it's a good move for the company.  Second Life, whilst not having the hype it once benefited from, is still an environment in which people buy and sell virtual goods, and most large scale multi-player games have some means of making real money (even if they're frowned upon by the game designers).
 In other words, there does indeed appear to be money made in them thar virtual environments.  The owner of the Space Station is now in a position to try and make money from people who wish to run virtual businesses in his station, and will no doubt think of other means of leveraging his investment.  Of course, the whole model depends upon people having Internet access, machines capable of running the games, disposable income to play the games and further disposable income to buy in to resources in the game – like rents for space on a virtual space station.  I think I'd be happier with the investment opportunities offered by the online gaming world in a less recession-struck world.
But thinking on the positive side…to build a virtual city you don't have to destroy a forest!!