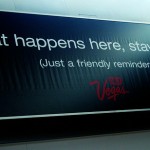 Long before it was the title of a movie, it was a fairly well known saying. 
In the UK it was more likely to be 'What happens in Blackpool, stays in Blackpool', or, as time passed, what happened in Estonia stays in Estonia. I was a mark of secrecy that was usually associated with the ceremonials of secret societies; it didn't matter that you'd abseiled down Blackpool Tower naked except for a sock on your head, carrying a crate of beer and singing 'Unchained Melody' at 3am.  If you found your boss in flagrante delicto with Myrtle from accounts, playing strip-poker, well, that's something you were not going to be allowed to use in blackmail.  Because of the simple, unwritten law of the hard playing world of the works outing / stag weekend / hen weekend / mate's trip to Skegness.   
'What happens here, stays here'.
It used to be up there with the other rules of social nicety.  Basically, if you did get up to alcohol fuelled high jinks on one of these events, you were OK.  It wouldn't get home or back to the office (unless you contracted some social disease, got pregnant or turned up in the local  Magistrate's Court or A&E).  You might have shown yourself to your friends and colleagues as a hypocritical, deceitful, lecherous alcoholic but you were given the 'Get out of Jail Free' card of the event falling under the rule of  'What happens here, stays here.'
Just to be serious for a moment, there are even 'legitimate' versions of the rule – self-development weekends, religious retreats, etc.  What happens there, stays there, unless you want to share your OWN experiences – but no one else's.
It's an incredibly sensible rule for the latter type of event, and to be honest I reckon it can be a reasonably sensible code of behaviour to abide by for participants in the other events mentioned above.  
And it's a way of life and social behaviour that is slipping away.  Whenever you go out these days there will inevitably be someone taking photographs which within 30 seconds show up on Facebook.  I'm one of those people who hate having a photo taken – apart from looking 20 pounds heavier than I am, I always get photographed with a stupid expression on my face or doing something daft.  That sort of thing showing up online is OK to deal with – it's the other stuff that gives the running commentary of what happened, who spoke to who, who sat next to whom – even for a few minutes, etc.  The minutiae of a social event that to be honest is of fuck-all relevance to anyone who wasn't there.  Those who are there, know what happened.  Those who weren't there, rarely need to know what happened except out of vicarious curiosity (OK…nosiness!)
I don't necessarily want to be photographed when I'm slightly drunk at a non-work related, social event when I take a quick trip and spill drinks.  What would once have been a momentary source of amusement for all who witnessed it that you probably wouldn't even have remembered the following day now becomes a cast in stone moment on Facebook.  If you're REALLY unlucky and surrounded by geeks, it will also be Tweeted – which isn't as bad as the Tweetstream is pretty ephemeral – but you get the idea.
Please people – just go back to taking and posting a nice big group photo at the beginning, share any candid snapshots between you and people who were there directly rather than through your 200 friend Facebook page, and let what happened in the pub, stay in the pub, in 2010.