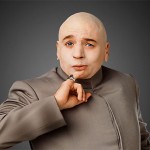 During Google's formative years, the company decided to come up withthe equivalent of a short mission / vision statement that summed up what it was to be Google.  After some serious thinking, the slogan emerged.  'Do No Evil'.  Nice…although as someone pointed out – it really is just civilised good manners to do no evil.  Why make such a fuss about it?
Well, the years pass and Google just keep dipping a toe in the muddy waters of naughtiness, with occasional activities that, whilst usually not up there with breeding sharks with head mounted laser cannons, a la the handsome fellow top left, might be construed as being pretty darn close to very bad indeed. 
Take a look at parts of John Batelle's book 'The Search'.
Anyway….enough of the history lesson.  Recently Google have been scanning books.  Hundreds of thousands of books.  MILLIONS of books!Some old and out of copyright…other…not so old and definitely not out of copyright.  And they're going to be scanning millions more.  Their aim is to create an online scanned library of books to equal the scope and reach of national libraries.  Now, various settlements have been agreed and Google take efforts to try and restrict copying of copyrighted materials, but there have been a number of legal blocks to Google based on their breach of copyright.
The US Authors Guild – an organisation that supports the rights of authors in the united States – has recently entered in to an agreement with Google to support the project.  In many ways, this gives the project the apparent support of a large number of authors, but some individuals – like Ursual Le Guin – are quitting the AG in protest.
http://www.guardian.co.uk/books/2009/dec/24/le-guin-authors-guild-deal
I can see the point of the author's protest – after all I'm a published author myself – but at the same time agree that Google seem to be taking steps to restrict the amount of the book that you can read online.  However, my fears are for the future.  This set of agreements seem to have given Googlean incredible'head start' on what is effectively a large tranche of the world's written knowledge.  What happens in a few years time when a library or a publisher hits hard times, and that nice friendly Googlecomes along and says 'Hey, we can help.  Just let us have the rights to display all of each of your books online, and an e-book publishing right, and we'll buy you out / licence your stuff.'  All of a sudden Google starts becoming the arbiter of what's published across the board.
At themoment,  Google can effectively make or break web sites the world over by the simple expedient of adjusting it's search engines or, in some cases, excluding sites directly.  Google currently only takes the latter steps when they're compelled to by law or someone like the Chinese Government tells them to do so, but the technology is there.  Again, see 'The Search'.  Now, imagine 2015 when Googlehave the online rights to the book collections of a few major publishers.  And you happen to run 'Bill's Books' – a little shop still selling books the old fashioned way – and you have old stock that might just conflict withthe publisher that Google have just bought up.  You might just find yourself falling off the search results… Conflict of interest, maybe?
I'm afraid I don't trust anyone withthe sort of control that Googleis getting over the world's knowledge and information.  It's an extreme idea, but could Google end therevolution of available knowledge started by Gutenberg.  If all knowledgeis increasingly online, and access is directly or indirectly arbitrated by one corporation, that is a Hell of an opportunity for censorship of the sort last practised in the Middle ages by the Catholic Church or by the Totalitarian Governments of the 20th Century.
Like most of us – I use Google quite extensively.  I'm just not quite sure that the spoon I'm using to sup with is long enough anymore.