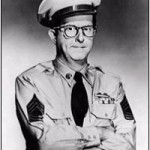 I was reminded earlier today, whilst reading a book called 'Life 101',  of a useful piece of advice from one of the more under-rated personal development gurus of the mid 20th Century – Sergeant Ernest Bilko of the United States Army.  Let's listen to what he has to say on the topic of a three letter word…
You said, "but." I've put my finger on the whole trouble. You're a "but" man. Don't say, "but." That little word "but" is the difference between success and failure. Henry Ford said, "I'm going to invent the automobile," and Arthur T. Flanken said, "But . . ."
And so it was, according to Bilko, that Ford remains in history whilst Flanken doesn't even make the footnotes.
'But' is indeed one of the words in the English language that fills me with trepidation.  During my years in consulting, hearing someone agree with what you were proposing, and then adding the word '…but' (complete with pause) to the end of a sentence was the equivalent of telling me that I was as likely to get cooperation as I was to win the Nobel Prize for Physics and Literature in the same year.
There some occasions when it's valuable to pull someone up short before they thunder off and implement some plan or other that at best can be described as 'unwise'.  And there are times when the use of but can provide a useful reminder for folks that their master plan requires a few tweaks before it will work properly.  But often 'but' is used as a prelude to a road-block.
Rather than 'but' I now try and use 'and' or 'or' instead of 'but' – then rephrase the part of teh sentence after the old 'but' to look towards solutions.  For example:
I'd like to buy a new computer, but it costs too much.
becomes
I'd like to buy a new computer, and in order to give me time to save the extra money, I'll put the purchase off for a month and see if I can do some overtime in the meantime to help raise the extra cash.
The first sentence becomes, in the but-less second sentence, an intention with a timescale and a partial solution to the problem of money.  As the guys at Honda say, 'and' is a great little word – it opens up opportunities for solutions, rather than closing things down.
Don't be a but-nik!