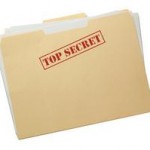 Have you heard of ACTA?  How about the Anti-Counterfeiting Trade Agreement?  No?  Well, you're probably not alone.  After all, here in the UK the Government won't even put documents regarding the Agreement in to the House of Commons Library.   Of course, our New Labour defenders of freedom have lots of reasons for not doing this, most of them playing the 'National Interest' card, but one has to wonder whether that's all there is to it.
To give you a little background, take a look at this brief outline of the provisions and process of ACTA.  Like most things that trans-national bodies come up with, they sound bland and almost useful to start with but the Devil is, as always, buried in the details.  And not buried deeply here.  The Horns and the tip of Old Nick's tail are definitely visible!  Nominally, ACTA was put together to prevent counterfeiting and piracy of branded goods; immediately you can see that it's beneficiaries are likely to be big corporations.  Whilst you might immediately think of dodgy Guffi handbags on the flea-market, or pirated DVDs, it also extends to less obvious things like machine parts, electronic components, drugs, etc.  In fact any copyrighted goods.  So far, sort of so good – but it also throws in sections dealing with piracy across the Internet and other aspects related to what might loosely be described as 'means of piracy', which is where the fun starts.
This BBC item from last yearindicates some of the concerns.  Some of the aggressive policies put forward last year against Internet pirates (or suspected pirates) here in the UK were almost certainly a product of ACTA, and the current Deep Packet Inspection trial by Virgin (whilst hitting a few legal issues) would no doubt warm the cockles of ACTA's stony heart.  ACTA will allow for a great deal more intrusive observation by ISPs, Governmental bodies and other interested parties of our Internet traffic, will support fairly swinging penalties and because it's a very broad-based, international agreement will have the stench of globalisation about it.  And it's not just your Internet connection that's of interest.  If you take your computer across international borders – in principle, ANY form of digital storage – then ACTA would permit it to be searched.  And this might easily include the SD cards in your camera, your Blackberry, your iPod.
Concerned yet?  Lots of fuss has been made about the 'three strikes and you're off the Net' laws being developed in a number of countries that are likely to be signatory to ACTA when it's finally agreed and ratified.  But that's just the end of the process.  ACTA is the issue of concern as it legalises nothing more than wholesale invasion of privacy by private companies in to our personal lives.
It's not just the UK Government keeping this business sub-rosa.  Here's a Canadian take.  Fortunately, some British MPs (bless 'em) are attempting to get an Early Day motion in place to raise the issue. 
Perhaps we shouldn't be too surprised; ACTA will benefit global business first and foremost – the acolytes of massive globalisation will love it.  And such agreements are often used to bring in laws that individual Governments would probably lose power over if they tried to do it themselves.  National sovereignty and local governance once more yields to the faceless centre.
Perhaps it's time to act up on ACTA?